Repotting Orchids
Repotting orchids every few years is important for many reasons. If the potting mix has started to decompose, it will retain too much moisture and prevent air getting to the roots, causing root rot. The plant may also have outgrown its pot. It's also a good idea to regularly make sure the root system is healthy and remove any old dead roots. If an orchid is in a plastic pot, it's fairly easy to lift it out of the pot; if its roots are stuck to the pot, just squeeze the pot a few times to loosen them. Then you can lift the entire root system out of the pot to see that it's healthy. If the root system is in bad shape, with lots of mushy, dead roots instead of firm, white, healthy roots, the plant should be repotted. It should probably either go in a more freely-draining potting mix or be given more time to dry out between waterings. Clear plastic pots can make it easier to observe the health of the root system. It's also easy to see the health of the root system for plants grown on slabs. But for plants grown in clay pots, the roots often stick firmly enough to the pot that you can't really inspect them without a fair amount of stress to the plant, so try to get a sense of when the potting medium is breaking down to decide when to repot. Repotting orchids while they are in bloom is generally stressful. It tends to be a good idea to repot orchids while their root systems are actively growing or about to, such as when the plant is starting to produce a new growth.
Pot Size
If a sympodial orchid has outgrown its pot, the new growths will be forming right against the rim of the pot, or even over the edge. It's generally a good idea to repot sympodial orchids leaving enough room for 1-2 years' worth of new growth. This may involve repositioning the plant in its current size of pot or moving it to a slightly larger pot size. Monopodial orchids, such as

Phalaenopsis

and

Vanda

, seldom need to move to larger pots. If the plant can't fit most of its roots into the pot, go to a larger pot. If the roots aren't fairly thoroughly filling the potting mix, go to a smaller pot. Orchids generally don't like to be overpotted; when in doubt, choose a pot that's too small.
Pot Types
The most common type of orchid pot is a plastic pot. To learn about other types of orchid pots, see the orchid pots page. Some common ones include net pots and teak baskets, epiphytes mounted on slabs of bark, and clay pots.
Orchid Potting Mix
There are a number of commercially-prepared orchid potting mixes to use when repotting orchids, or you can make your own. Basic potting mixes include New Zealand sphagnum moss or various grades of fir bark.
Steps for Repotting Orchids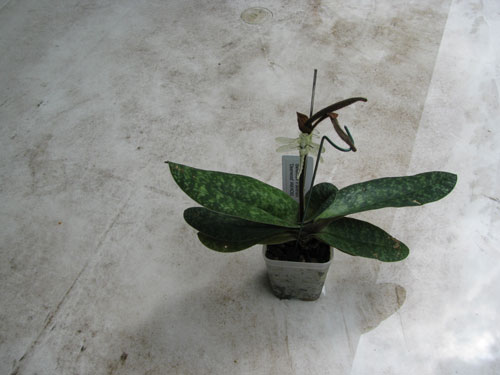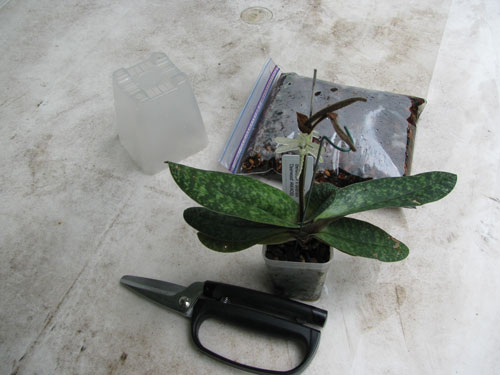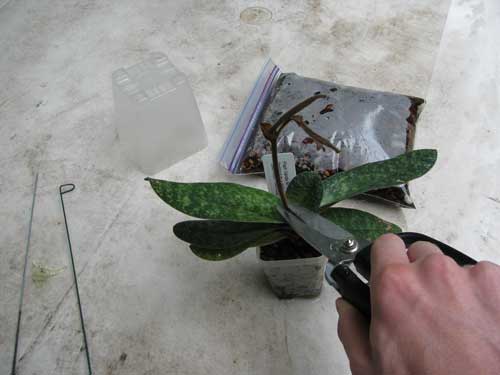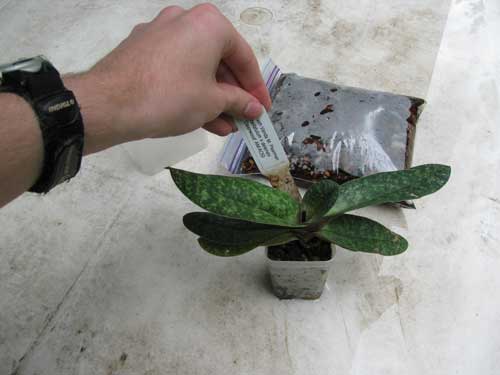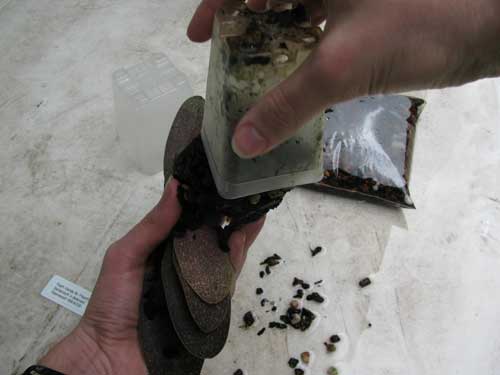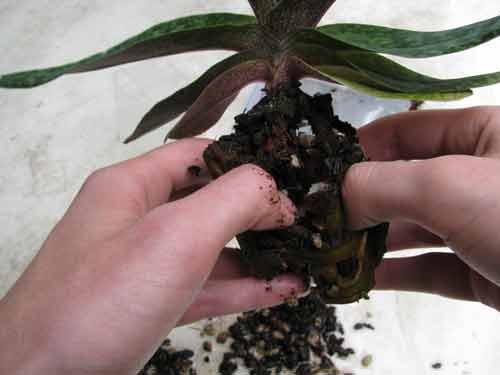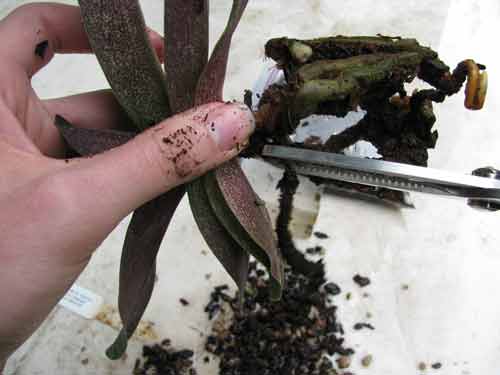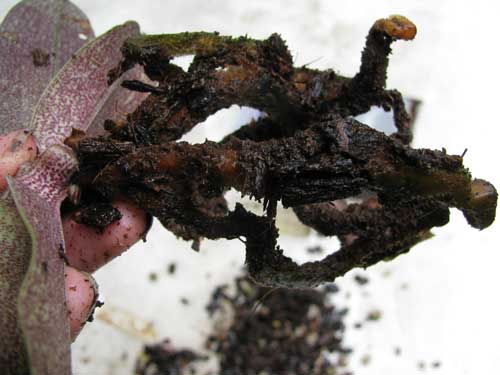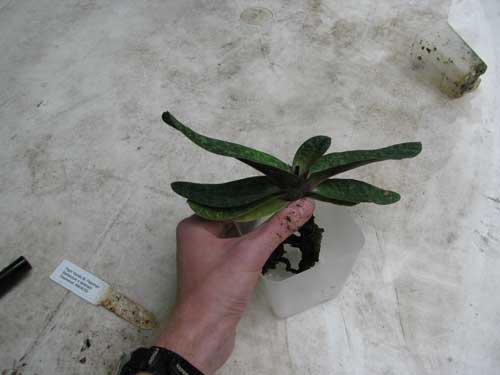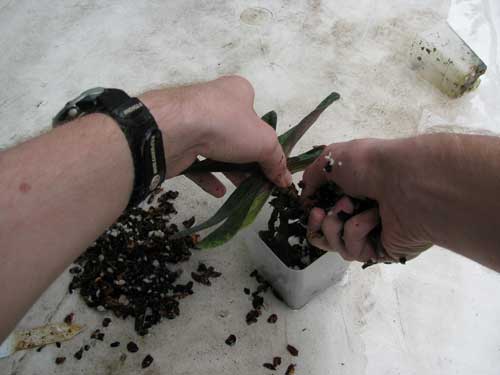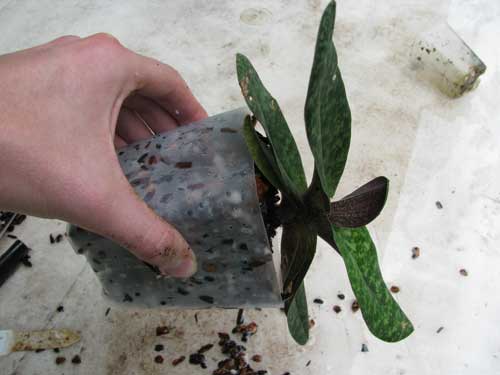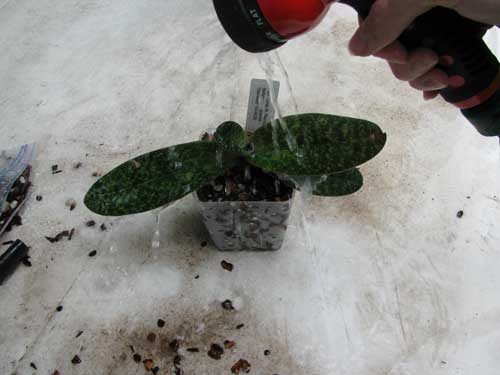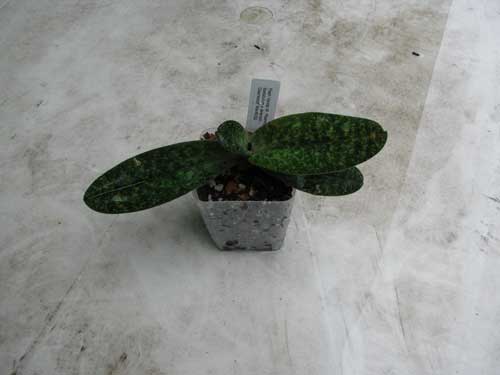 With practice, the whole process of repotting orchids can be done in a few minutes, but beginners sometimes take much longer as the steps are unfamiliar. The process of transplanting orchids from one place to another in a flower garden is similar, with a few additional caveats. You can learn more about repotting orchids in the pages below: Return from

Repotting Orchids

to

Orchid Care Tips Home